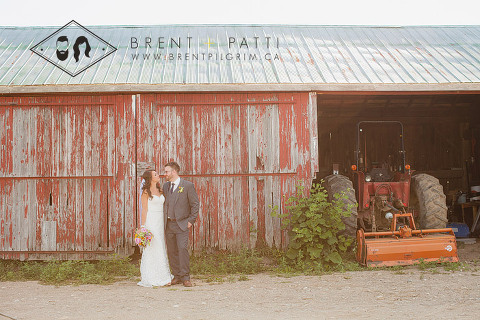 She hung her dress on the curtain rod in her old bedroom of her parents house.  The place where she kept all of her favourite things and memories as a young girl was now where she was getting ready for her wedding day.  And although she was all grown up, Megan's mom and sister helped do up her dress and put on her jewellery as they may have done so many times before.
At the Basilica of Our Lady Immaculate, on top of a hill overlooking the downtown area of Guelph, Justin waited to see the girl that held his heart – the one that he adored so much that made him amend his statement long ago from "I like you, a lot…" to "I love you".  As the ceremony ended and the first kiss a success, Megan and Justin walked back down the aisle and high-fived in celebration.
More high-fives followed as the celebrating continued at Earth-To-Table, The Farm in Hamilton, for what would become a night of fun, laughs, and dinner music courtesy of the Backstreet Boys and the Fresh Prince.
Megan+Justin – it is our honour to have had you laugh like friends with us, teach us the value of piggy-back rides and epic high-fives, and to have us capture it all for you as your wedding photographers.
Earth To Table The Farm Wedding – Hamilton Wedding Photographer