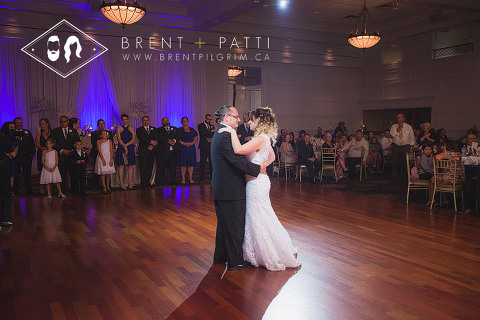 Her dress hung in the window, and the veil that her mother made was draped over the end of the bed.  The house was buzzing with activity; and after putting on her dress, Sheila sat to have her mom help her put on her shoes while her nieces and nephews stopped to see what was happening.  Amidst the rush of getting ready, time seemed to stand still just for a little bit when Sheila hugged her mom tightly before walking downstairs to see her dad.
Having had his own morning of getting ready with the guys, Domenic stood and smiled at the altar of St. Paul's United Church in Milton, watching Sheila come down the aisle with her dad.  They promised to continue the love they have for each other (that started by meeting each other online over a video game) in any adventure that their lives together will present them.
In the middle of the dance floor at the Terrace Banquet Centre in Vaughan, Sheila and Domenic enjoyed a dance together before partying late into the night with their guests… and cutting the cake with the incredible Pac-Man and Ms. Pac-Man topper inspire by their story!
Sheila+Domenic – we hope you're loving Jamaica and enjoying every second of it together.  It was our honour to capture your wedding day for you!
Terrace Banquet Centre Wedding – Vaughan Wedding Photographer